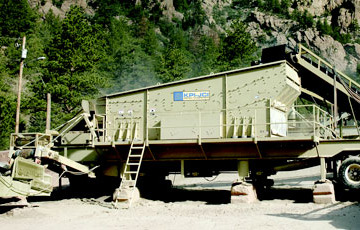 Custom Equipment SalesWe love to custom fit all of our equipment sales to our clients needs. With years of experience in the aggregate industry, we make valuable and trusted recommendations to our customers about their equipment needs. If it …
Why Choose Us:


BEST PRODUCT LINES
We are a certified distributor for KPI/JCI, Aztec Mobile Screens, Texas Crushers Systems, Trio Engineered Products and more. Our customers trust these brands and value quality equipment.



 YEARS OF EXPERIENCE
Goodfellow Crushers has been around for over 55 years and we understand the aggregate industry. We create a custom plan for your situation and see you through from start to finish.



 IN HOUSE MANUFACTURING, PARTS, & REPAIR
We don't just distribute crushing equipment, we manufacture our own line of support equipment and service everything we sell in house. If your plant goes down, we can get you back running fast.
Who We Are:
Goodfellow Corp. was founded by Lynn Goodfellow in Southern California in 1960. For many years, Goodfellow Corp. sold crushing and related equipment throughout the United States, Canada, and Mexico from Kanab, Utah. Over the years, competition grew and Lynn saw the need to move the business closer to the market.
In 1988, Goodfellow Corp. opened an office in Boulder City, Nevada, on the outskirts of Las Vegas. We've become an all in-house outfit with custom work, parts, and electrical. In 1997, we opened and additional facility in Lindon, Utah, Just south of Salt Lake City. We now have a third office in Rialto, California.
Our promise as a company is to always take care of our customers. We do this by having a friendly attitude, knowledgeable staff, large parts inventories, prompt service teams, and high quality equipment.
Based on my experience, if you're going to get into this business, research what you're buying, where you're buying it, and what support you'll get. Goodfellow has it broken down to a science. You need parts, they have a parts guy. You need sales, they have a sales guy. They have the support, they have the mechanics to fix your problems. It doesn't get any better than this.
John Sather - Whittaker Construction
Goodfellow has been awesome to work with. Every time I have called, I've gotten a quick answer and they are right on top of it. I've made phone calls to guys out of state who answered their phone right away, talked me through, and took care of the issue. They have been on top of it and have been really good to work with.
Jake Riley - Geneva Rock Products
We are running two of the biggest crushing operations in the State of Utah and we are no better than our support groups. We get very good support from the Goodfellow Corporation.
Ed Clayson - Geneva Rock Products
The factory support and Goodfellow is bar none the state of the industry. Their service and parts are very good. Their field mechanics are the best I have ever been around.
Bob Heightman - Staker Parsons Company
Partners